(2021.12.11)Lecture Session Commemorating our 20th Anniversary Was Held
On December 11, a lecture session to commemorate the 20th anniversary of the founding of our association was held at the Inzai City Chuo Kominkan (Central Community Center), attended by a large number of people from Inzai and other cities.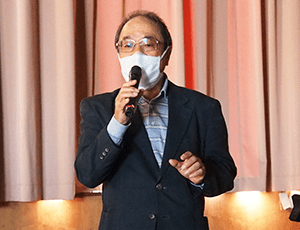 In the lecture titled "Nepal Himalaya Dolpo Trekking: Following the Path of Kawaguchi Ekai," Mr. Akira Takehana, a resident of Inzai City, introduced the trekking in the Dolpo region of Nepal that followed the path taken by Kawaguchi Ekai, who infiltrated Tibet, which was closed to the outside world, about 120 years ago.
Mr. Takehana explained a wide range of topics he experienced during his trek, including the scenery of Dolpo region, the people he met, and even rare alpine plants, using many photos.
After the lecture, the participants commented on how wonderful the lecture was, and it was clear that everyone enjoyed the lecture.
On the occasion of this lecture session, Hisao Yoshihara, Chairperson of our association, expressed his gratitude as follows.
Thank you very much, Mr. Takehana, for sharing your precious experience with us today. I was impressed by your curiosity, energy and stamina to traverse the trackless path followed by the explorer Kawaguchi Ekai about 120 years ago.
I would like to express my heartfelt gratitude to the audience, Mr. Takahira and Mr. Sakurai, managers of Inzai City, and Mr. Susumu Yamaguchi, former president of our association.
This year marks the 20th anniversary of the establishment of the Inzai City International Association. This is due to the understanding and cooperation of the citizens and the department in charge at the city hall, as well as the efforts of our seniors.
The association strives to make Inzai a safe and pleasant place for foreign residents to live, a place where citizens can get along well with foreign residents, and a place where elementary, junior high and high school students can become interested in foreign languages and cultures.
In the midst of the new corona infection, we will continue to actively work on the SDGs for the next 10 years, while seeking a new way of international exchange.
I would like to ask for your continued understanding and guidance in our activities, as well as your participation in our various events.